Zeald will be on break for the Christmas Holidays starting Saturday the 22nd of December 2018 and we will be returning to work on Monday the 7th of January 2019. While most of the Zeald team will be enjoying a well-deserved break, there will be some staff members working through to assist you over the holiday period, should you require.
Support Holiday Hours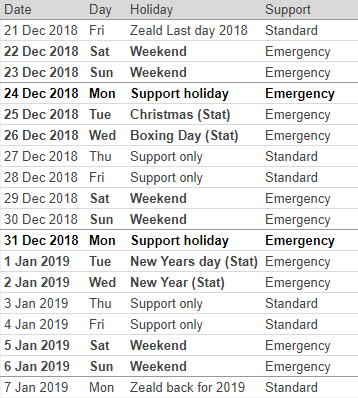 Statutory holidays, weekends & support holidays
Our user pays emergency support line will be available should you experience any emergency issues with your website. Call 026113320 or our free phone number 0508 932 748 ext 9 to speak to the after-hours answer service. If you are calling from outside of New Zealand then the number is +6426113320.
Non-statutory holiday
Our support team will be available by phone and email from 10 - 4pm (NZ) Call 0508 932 748 (NZ), 1800224032 (AU) or email support@zeald.com
Our normal website build and other services will recommence when we return in the New Year on the 7th of January.
To ensure a smooth holiday period for your website
we avoid releasing risky changes, such as:
- new websites or redesigns
- major change requests
- new campaigns in the week leading up to Christmas.
If you do have a need to launch something during this time period please let us know well in advance so that we can book the necessary work.
The last day for launching websites
is the 17th of December, to allow time to complete post-launch checklists and QA to ensure everything is working before the Christmas holiday period.